WINE DESCRIPTION
Reflecting the first vintage of a microclimate blended wine for the Catena Alta Malbec, this wine is 100% Malbec sourced from the sandy, clay soil of Lot 18 in the 70 year old Angélica vineyard and the sandy soil of Lot 3 in the Nicasia vineyard. The 2001 vintage in the Angélica and Nicasia vineyards experienced slightly warmer average temperatures during March, but with very cool nights, with average thermal amplitudes greater than the norm. The fruit from Angélica lent rich dark fruit flavors, a full yet soft mouthfeel and ripe, sweet tannins. The Malbec from Nicasia contributed delicate floral aromatics and spicy pepper notes on the finish. This vintage should be enjoyed in 4 to 5 years and will continue to improve over the following 10 years.
TECHNICAL INFORMATION
Varietal: 100% Malbec
Alcohol: 13.4 %
Total Acidity: 6.22 grams/liter
pH: 3.61
Fermentation: Max. Temp. 30° C for a 14 day fermentation and 28 day maceration
Aging: 14 months in French oak, 62% new
Unfined and unfiltered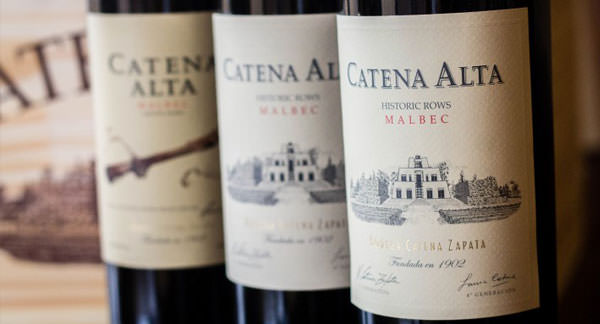 TASTING NOTES
The 2001 Catena Alta Malbec has a deep, dark purple color with violet tones. The nose is intense and complex, with ripe plum and blackberry fruit aromas with floral hints of violets and sweet spice. The mouthfeel is full, yet elegant with black cherry fruits and a touch of spicy black pepper. The finish is long and persistent, with soft, sweet tannins.