TASTING NOTES
The grapes for Catena Alta Malbec come from a select block of Catena's more than 60 year old Angélica vineyard. Named after Nicolás Catena's mother, the Angélica vineyard is Catena's premier Malbec vineyard. The soil and climate of the Angélica vineyard are ideal for growing Malbec. Clay soils with a rocky sub-soil allow for excellent drainage, and the continental climate of warm days followed by cool nights allows for even ripening and a prolonged hang-time.
The vines destined for Catena Alta Malbec undergo a detailed thinning process aimed at leaving only select, isolated clusters. Harvest generally occurs in the later half of March, and the decision to pick is based not on numbers, but on tasting for fruit maturity. The grapes are harvested by hand into small (800kg) containers. After destemming, the fruit undergoes a cold maceration of four days, out of a total of 28 days. Fermentation takes place between 30 and 32 degrees centigrade with a light pumping over to saturate only the caps. The new wine is then aged for 13 months in 100% new French oak from Taransaud.
The 1999 Catena Malbec has a dark violet/purple color with black notes. It has a ripe nose of blackberry fruit with hints of vanilla from oak aging. This full-bodied wine enters softly into the mouth and finishes with sweet, velvety tannins. Catena Alta Malbec will only be made in exceptional vintage years. No Catena Alta Malbec was made in 1998.
TECHNICAL INFORMATION
Varietal: 90% Malbec, 10% Cabernet Sauvignon
Alcohol: 14.5 %
Total Acidity: 6.07 grams/liter
pH: 3.42
Fermentation: Max. Temp. 30° C with a 28 day maceration
Aging: 13 months in 100% new French oak
Unfined and unfiltered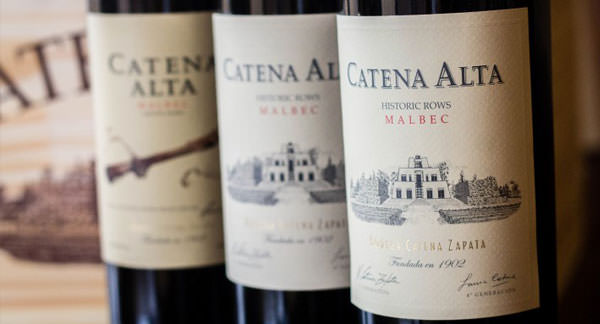 WINE DESCRIPTION
90% Malbec sourced from the sandy, clay soil of Lot 18 of the 70 year old Angélica vineyard, and 10% Cabernet Sauvignon sourced from the lime, clay soil of Lot 3 in the La Pirámide vineyard. The 1999 growing season was characterized by fairly warmer than usual conditions, although cooler than 1997. Average March temperatures reached 20.7° C in Angélica, resulting in concentrated fruit flavors and a soft, supple texture. The colder night time conditions, with average lows at 14.2° C, extended hang time which increased aromatic complexity. This vintage can be enjoyed now and will continue to improve over the next 6 to 7 years.