WINE DESCRIPTION
For over four generations, the Catena family has grown vines in the foothills of the Andes Mountains in Mendoza, Argentina. In his pursuit to make wines that stand with the best in the world, Nicolás Catena identified the best lots, and rows, in the Catena family's estate vineyards.
White Stones Chardonnay comes from a select 27 rows within Block 1 of the Adrianna Vineyard. The name refers to the ground beneath the vines which is covered with gravel - oval white stones.
The Adrianna vineyard is located at almost 5,000' elevation in the Gualtallary sub-district of the Tupungato region. The rocky soil prevents deep root growth and allows for ideal drainage conditions. These are very poor soils where the vines are constantly in conditions of stress. The cool nights allow for very slow ripening, optimal acid retention and low yields.
VINEYARD
Adrianna Vineyard: Gualtallary District, Tupungato Alto Region, Uco Valley, Mendoza, Argentina
Parcel Name: White Stones
Parcel Surface: 2.5 Hectares
Soil composition: Alluvial river bed. Stony soil
Altitude: 4.757 ft (1.450 m) elevation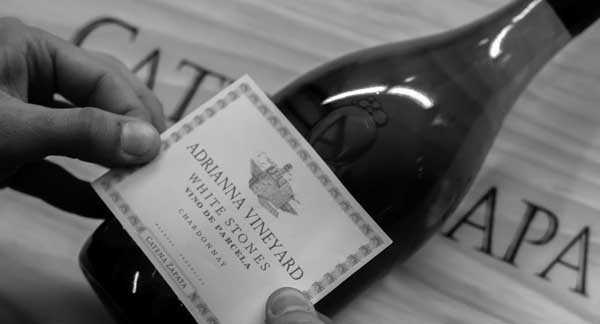 TECHNICAL INFORMATION
Varietal: 100% Chardonnay
Alcohol: 12.6%
Total Acidity: 7.95 grams/liter
pH: 3.1
Unfined and unfiltered
WINEMAKING AND AGING
Cold settling for 10-24 hours in stainless steel tanks at 6º C. Fermentation in French oak barrels for 45 - 95 days at 16°C. Biological Ageing. Battonage. Partial malolactic fermentation. Aged for 12-16 months in second, third and fourth use French oak barrels.